Ōkeanós
Humans of the Earth Gallery is proud to present a group exhibition featuring paintings, photography, sculpture, video art and mixed media artworks.

The "Ōkeanós" exhibit will run from June 8th, 2019 – July 28th, 2018 at the Gallery with an opening reception on Saturday June 8th in honor of World's Ocean Day.

Nine artists will be featured in the exhibit: Luciana Abait, Lori Goldberg, Bryan Ida, Oskar Landi, Krista Machovina, Peter Matthews, Adon Newman, Samantha Schwann, and Cory Sewelson.

Curated by Bea Lamar, the exhibit addresses pollution, and the global extinction facing our environment, focusing on our oceans and bodies of water. The artworks shift from celebrations of our oceans and its inhabitants, to studies of threats currently plaguing our oceans and the current issues facing the health of our oceans.

"Ōkeanós" will be on view through July 28th. The artist reception will take place on June 8th from 5-7 pm. Gallery hours during the exhibit are Wednesday – Saturday 12–6 pm, also by appointment.
My work intends to create the sensation in viewers of witnessing a new visual nature through the creation of photo-based manipulated landscapes, installations and photo-sculptures. The main components of "Icebergs" series are icebergs and construction structures and equipment like scaffolds and cranes. These are presented establishing new relationships with one another in a surreal manner.
These connections bring about issues of adaptation, assimilation, isolation and displacement. Also, they make a reflection on the aggressive intrusion of the urban environment into nature, even in the most remote places on earth.
"Icebergs" is photo-based, printed on thick watercolor paper. I work over this surface with pencils and pastels erasing almost completely the photograph underneath. This action also references to the disappearance of icebergs due to global warming caused by man-made actions, just like my drawing.
The direct expressions of pencils on paper allow me to create extremely gestural and expressive, emotionally charged images.
Lori Goldberg's artworks serve to open a dialogue about our relationship to our environment. These painterly renderings of toppling scrap heaps remind us quietly: that which we discard doesn't disappear - and it reappears here, a reminder of environmental impact encrypted within a series of lush paintings.
Over the past year, Lori traveled to different refuse sites across British Columbia, interviewing caretakers of the garbage facilities and photo-documenting each location. There is an intense and towering nature to the scrap heaps painted in Poetics of the Discarded that results from the information gathered at these sites. Goldberg noted her experience of entering each waste-management site, her senses at once bombarded by the sound, smell and visual impact. With an interest in memory and objects, Goldberg was influenced by the mass of collective memory each scrap heap represented. Within the refuse there were mounds and mounds of history: the detritus of days spent, life and death, business, sentimental things broken and so much more.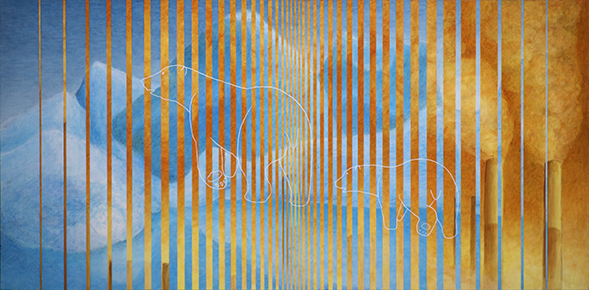 In this series of paintings I address man's inexhaustible need for energy and development contrasted with the beauty of the natural world. Pollution and exploitation are having a devastating effect on the environment and the balance is tipping out of control. The environment and animal kingdom are losing the battle against man's unrelenting pursuit of resources and expansion. I am creating a visual dialog of this conflict by overlaying one image of pollution on top of an image of the natural world. Over the top of those two images is an outline in white of an endangered species or natural wonder that is endangered by pollution. The juxtaposition of the two worlds placed side-by-side, one on top of the other expose the struggle that we face today and the future of our planet is dependent on our ability to balance the increasing demand for resources and the needs of the natural world.
As a selected participating artist for the Arctic Circle 2016–Fall Residency, I sailed for two weeks in the archipelago of Svalbard, Norway. Vexed by extensive reports on plastic pollution in the oceanic gyres, I wondered if microplastics could even be found in such a remote region. To this end, I built a floating device named Acceptance, designed to filter surface water following the protocols provided to me by The 5 Gyres Institute. At such latitudes, these protocols proved to be extremely difficult to follow, and this challenging, perhaps quixotic, experiment ended with the sinking of the apparatus. Nonetheless, prior to disappearing into the Arctic abyss, the Acceptance collected five water samples, which contained microplastics and microfibers, sieving for a total of 12 hours off the northwestern coast of Svalbard.
As John F Kennedy said in his speech at the 1962's America's Cup Crew dinner, "I really don't know why it is that all of us are so committed to the sea, except I think it's because in addition to the fact that the sea changes, and the light changes, and ships change, it's because we all came from the sea. And it is an interesting biological fact that all of us have in our veins the exact same percentage of salt in our blood that exists in the ocean, and, therefore, we have salt in our blood, in our sweat, in our tears. We are tied to the ocean. And when we go back to the sea - whether it is to sail or to watch it - we are going back from whence we came." If we align with Kennedy's view of the oceans, they are indeed a reflection and part of us. Thus our care for the oceans, or lack there of, will only benefit or hurt us. Being ever cognizant of the beauty and power and potential of the sea is the only way to stay aware of our responsibility to do no harm to it.
I am an ocean based artist working in and along the Pacific and Atlantic Ocean since 2007. My work addresses, reveals and responds to a wide range of topical and creative connections relating to our human connection with the ocean, especially a spiritual connection. My film 'The Ocean Moves Through It' was produced by hand directly in the Atlantic Ocean. It questions and examines a unique visual and material and time based inquiry relating to the passage, behaviour, physical and metaphysical nature of water, space, time and the raw, visceral nature of the ocean.
Living amongst the natural landscape of California, it is heartbreaking to see the tragic ecological impact of single-use plastics on the environment. Just a few steps away from the manicured lawns of resorts and hard-to-reach beaches alike, a relentless tide of plastic particles are littering the shoreline and disrupting the natural ecosystems. Drifting out to sea, 1.8 trillion plastic particles have accumulated in the North Pacific Ocean Gyre forming a mass three times the size of Texas, known as The Great Pacific Garbage Patch.
GYRE is a kinetic sculpture that portrays the unfathomable amount of ocean waste as a hypnotically undulating mass of plastic trash bags. Presenting the viewer with the uncomfortable contrast between the soothing motion of the sea and the very substance that threatens to destroy it, this piece confronts the unavoidable reality that the natural beauty of the ocean is being overtaken and destroyed by our cultures' obsession with plastic.
Hope Spots are ecologically unique areas of the ocean designated for protection under a global conservation campaign. They are chosen for their contributions to biodiversity, the carbon sink, and important habitat to threatened or at risk species. There are 76 Hope Spots Worldwide, with an additional 28 under nomination. These images form a portion of a body of work documenting locations which are Hope Spots as well as UNESCO World Heritage Sites, recognized as important habitat for large pelagic animals (Sharks, Dolphins, Whales, Manta Rays) upon migratory routes.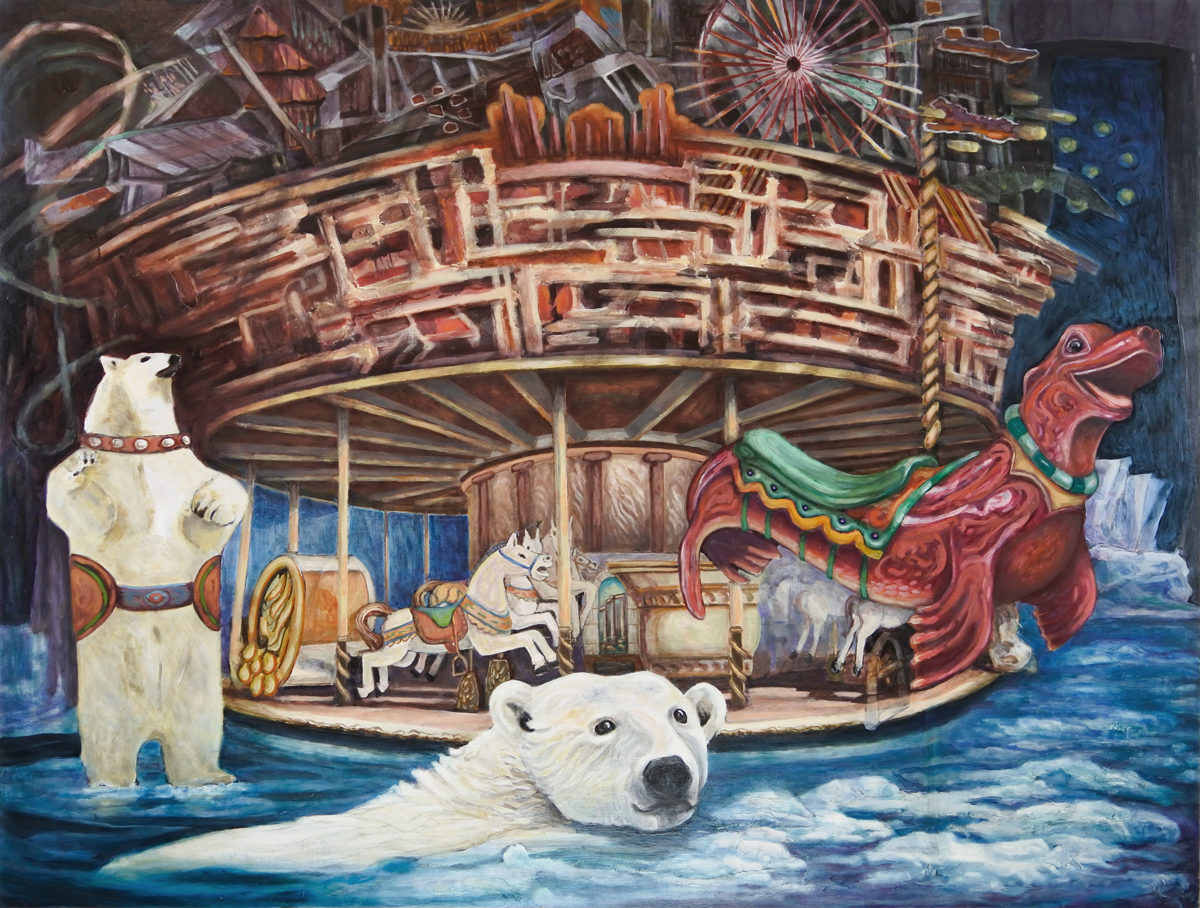 We use architecture, our built environment, as our way of relating to nature and to each other. The structures, cities, and places we build are tailored to satisfy very specific purposes. Our built world is our interface with nature and provides a context for many of our social interactions as well. In this series of paintings, Fun House, I'm interested in what happens when the usual boundaries are removed between the built and natural worlds, between residential and urban situations, and between our private and public spaces. I'm using a mash up of visual images and references from amusement parks, residential houses, and the natural world. In bringing together these normally disparate elements, I'm highlighting how we usually prefer to organize our lives. We have familiar sets of expectations that differ when we go to work or go to play or stay at home. I'm drawn to the memories, emotions, and connections we associate with these different settings and how we feel when they are blended in ways that don't usually occur. The use of this mixed iconography comments on our psychology and the fragmentation found in our typical daily lives. I hope to provoke a re-evaluation of our assumptions about the world and how we chose to live in it.